Host a Performance
To host a FREE performance or for more information, feel free to contact us:
…or send us a message using the form on our Contact page:
Contribute to Mercy Killers
Performances of Mercy Killers are FREE and made possible entirely by your donations and support. Please click the donate button now to contribute through PayPal.

About Michael
Michael Milligan is a performer who has been writing and acting for the theater for almost two decades. Milligan has appeared both on and off the Broadway stage and in regional theaters throughout the country. He is a graduate of The Juilliard School.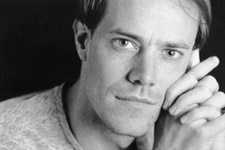 Audience Testimonials
"Michael Milligan's breathtaking performance of a shattered man in the throws of a healthcare nightmare, made only worse by the twists and turns of insurance companies, truly humanizes the vast inequities of America's for-profit health insurance system. You will be talking about Mercy Killers long after the curtain draws."
"This poignant drama cuts to the chase: healthcare is a human right, not a commodity. The incredible strength of the performance is the character development of 'Joe,' the apple pie-loving, Rush Limbaugh-listening, blue-collar worker who struggles with the uniquely American experience of losing your health in the land of plenty. Milligan's performance strips away the polarization of the political debate and opens the door for real conversation as to how can this be happening here."
"Michael Milligan's Mercy Killers is a powerful teaching tool to deliver the emotional impact of how our healthcare system chews up and spits out so many Americans. This masterfully written and performed play displays the agonizing, dehumanizing suffering needlessly imposed on decent people by a system that turns healthcare into a market commodity instead of a basic human right. Mercy Killers poignantly demonstrates how rugged individualism can't compete with diseases and expenses that can strike down anyone."
"It's an emotionally compelling rollercoaster of a ride, thoroughly convincing in its evocation of Joe, a good-old boy auto-mechanic from small-town southeastern Ohio who has pretty much always played by the rules, never asked for hand-outs, prided himself on his independence and, as his buying into the auto-shop makes clear, has been fueled all along by his determination to make something of himself for the great love of his life, his wife Jane. Until, that is, Jane is diagnosed with cancer and everything starts to unravel. The human cost of this devastating development is wrenching as Michael Milligan explores Joe's feelings of guilt for having somehow not done enough to prevent things unfolding as they did, but the dramatic momentum of the monologue derives from its ringing indictment of the American healthcare system, which bankrupts the couple."
"As a longtime advocate for meaningful healthcare reform, I found a refreshing perspective in Mercy Killers. When focusing on policy, it can be easy to lose sight of the actual plight faced by real people. The play provides a very personal look at the blameless catastrophe many average Americans face when they become ill. As a doctor, I have amassed plenty of my own horror stories of patient suffering. I was surprised I could be this affected by yet another. However, Milligan's acting is superb, and I was completely engrossed in the story from beginning to end. The tale he weaves brings you into the middle of a needless, mind-numbing tragedy that should never happen in a country as wealthy as ours. It has power that facts and figures will never offer. Regardless of political persuasion or beliefs about how to fix the healthcare mess, audience members will leave the performance deeply moved and in agreement that we simply cannot leave things as they are."
"Michael Milligan has created the near impossible: a passionate
evening of socially conscious theater that doesn't read like
rhetoric. Beautifully crafted and immensely entertaining, do not
miss this show."
"In one spellbinding hour, Milligan manages to spotlight
what is wrong with our health care system: capricious
coverage, error-prone treatments, and unreasonable costs
that ultimately affect us all."
"Boldly and wonderfully acted, the play left many audience members in tears, inspiring both compassion and a sense of the need for change. Milligan, a Broadway actor and Ohio State University alum, is currently on tour performing his act in cooperation with SPAN Ohio in order to advocate health care reform in the United States. His play, first and foremost, is an attempt to speak out on behalf of the gross numbers of individuals who have spiraled into bankruptcy as a result of medical debt. In performance, however, Milligan does much more than this. With an eye toward individualism and the American dream, Mercy Killers ultimately calls for much more than medical reform — reform of the values that comprise our culture today."
"Michael Milligan's Mercy Killers is a powerful play that illustrates the urgency of replacing our dysfunctional health insurance system. In this painfully accurate portrayal of the personal struggles of one couple, Milligan makes public the suffering that thousands of American families experience in private. I was inspired by the performance, and energized to move our state from health insurance for some, to health care for all."
"Michael Milligan's play Mercy Killers is a powerful indictment of our failed healthcare system and its cruelty. Caring citizens should protect and empower each other. We can fix the healthcare system by covering everyone under an improved and expanded Medicare for all, and Michael's play should inspire us all to fight even harder for healthcare justice."